Don't let the impressive features of the gorge distract you from discovering the small, delicate treasures hidden within. Its variety of volcanic materials, unique plant and animal species and the traces of human use from the recent past also form part of its legacy.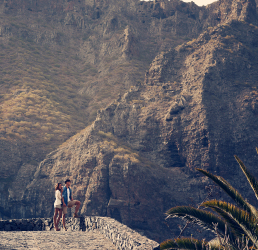 Patiently sculptured by water 
Over five million years water has carved out a deep gorge in the hard volcanic rock. And this work hasn't finished: each year you can see new touches that the sculptor continues to make as a few stones fall here or a rock moves a couple of centimetres there. 
Erosion has sliced through the rock like a knife; the walls of the gorge reveal the different horizontal layers of materials that form the Teno massif and the vertical lines of the dykes, cracks filled by new magma emissions that rise to the surface. As it digs deeper, the water exposes older and older strata. In fact, when you are close to the estuary you can touch some of the oldest rocks in Tenerife.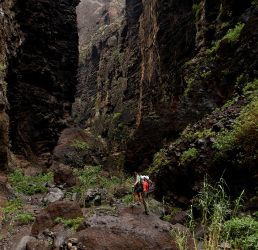 Two contrasting habitats for life  
The gorge has two different, clearly defined environments where life is found: conditions are easier and more amenable alongside the water course, whereas life is locked in a battle of survival on the high basalt walls. 
Willows line the stream to form a corridor-like wood and you can often spot dragonflies and numerous species of birds who come to drink and bathe here. However, life also manages to find a way to survive on the vertical rocks. The Canary Islands dragon tree is a typical sight and species such as aeonium canariense and crambe strigosa also anchor their roots in the limited fertile earth found in the cracks. These unique conditions have led to some astonishing adaptations and exclusive indigenous species, such as the small Masca spider that only exists in this gorge.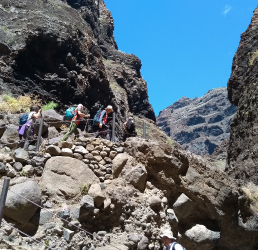 The gorge has also seen considerable use by humans
Before the road was built, following the course of the stream to the ocean was one of the best ways for Masca hamlet to communicate with the outside world. This traditional route was used daily to exchange all kinds of goods with other villages.
Reminders of its previous use are dotted along the gorge, such as old hillside terraces for crops, channels for transporting water, a cave that was used as a shelter and, on the beach, the old jetty, evidence of how important communicating by sea once was.
Teno Rural Park

Masca is in Teno Rural Park—a protected natural area with a great geological, biological and ethnographic heritage, which is part of the Natura 2000 Network.
INFO
Masca hamlet

The hamlet of Masca is one of the finest examples of traditional Canarian architecture and is an Asset of Cultural Interest, as a Historic Site.
INFO
Visiting Masca

The hamlet of Masca deserves a longer visit. You'll find the Visitors' Centre and hermitage of La Concepción in La Piedra, the hamlet's main group of houses.
INFO