Set aside some time to explore Masca hamlet. Open your heart and mind as you discover Masca's most characteristic features: its houses, palm trees, hillside terraces, panoramic views of the ravine walls formed by hundreds of layers of volcanic materials and life that thrives in the gorge's nooks and crannies.
Calm is the key to discovering the essence of Masca
What is generically known as Masca hamlet in fact consists of four settlements with houses that line the crests of the mountainside: La Bica, El Turrón, La Piedra or Lomo del Medio and Lomo de Masca. Each is linked to the next by ancient paths. The main square is in La Piedra and here you'll find a huge Indian laurel and a small 18th-century hermitage. Masca Visitors' Centre is very close to the main square. It can provide you with all the information you need to make the most of your stay in the hamlet.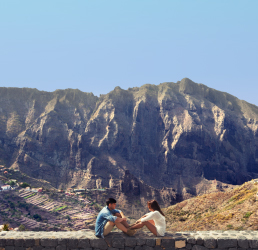 The area surrounding Masca is also well worth a visit 
During your journey to the hamlet you'll find that the landscapes around Masca are so attractive that you won't be able to resist stopping at the closest viewpoints, such as those at La Cruz de Hilda or Cherfe, where you can enjoy the best views of the challenging setting where the different hamlets were built. You could also visit the nearby villages of Los Carrizales, El Palmar, Buenavista del Norte, Los Silos, Santiago del Teide and Arguayo, among others, or go hiking along the network of signposted trails in the Rural Park.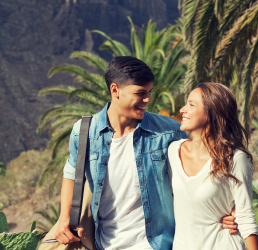 Your support is essential if Masca is to be conserved
When you visit Masca, you'll be sure to agree that we're privileged to still have places like this in the world. You can do your part and collaborate in Masca's conservation by being considerate towards the people who live and work there, respecting their privacy and private property, and keeping the hamlet clean and peaceful. 
If you also support local production while in Masca by purchasing or sampling Masca onions, honey, yams, fruit, or by taking hand-crafted goods made from palm or wood home with you, you'll be helping the hamlet to improve its quality of life without renouncing its traditions. Please click here to find out about some of the local business initiatives.
Teno Rural Park

Masca is in Teno Rural Park—a protected natural area with a great geological, biological and ethnographic heritage, which is part of the Natura 2000 Network.
INFO
Masca hamlet

The hamlet of Masca is one of the finest examples of traditional Canarian architecture and is an Asset of Cultural Interest, as a Historic Site.
INFO
Masca Gorge

The Masca Gorge trail runs along a ravine that was carved out by erosion and is home to native species that are found nowhere else in the world.
INFO