Masca Gorge is located in Teno Rural Park, a protected natural area in which a wide variety of landscapes awaits you. Here you will find the perfect balance of the product of volcanism, the modelling of time, many species of exclusive flora and fauna and the footprint that humans have been leaving throughout its history. We invite you to discover this territory which thoroughly deserves its place in the European Natura 2000 Network.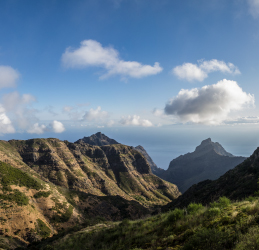 Seven million years of volcanic history to see
Teno is one of the oldest territories in Tenerife. Layer upon layer, it grew from the seabed and, about seven million years ago it reached sea surface level, but not to stay there. Magma continued to flow and accumulate for about two million more years until it rose to a much higher and wider massif than it is today. During the last 5 million years, there has been little further eruption. It has been the kingdom of erosion: the ocean, rain and gravity have been destroying the massif, carving cliffs and ravines into it, allowing us see today its inner skeleton.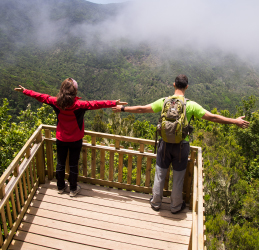 Teno takes refuge in a huge diversity of life 
Despite its small surface area, this mountainous formation rises to 1,354 metres high. From the coast to the summit there are different conditions for life: many hours of sunshine and little rain on the coast, vertical walls on the cliffs, peaks almost always covered by the mist... This variety of areas, together with Teno's isolated location, have made it a bastion of biodiversity, with populations of endangered species, and even with unique and exclusive plants and animals in the park.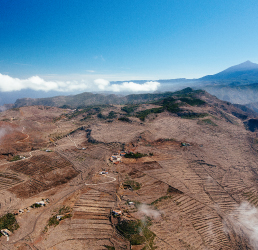 The hardship of human life in the past 
For centuries, the population of Teno has had to adapt to survive with the materials available nearby until the mid-20th century when communications were improved. This involved building their houses mainly using volcanic rock, clay for tiles and wood from nearby forests. But above all, in these steep lands, they had to "invent" small flat surfaces where crops could grow, turning the slopes into orchard steps. The farmed terraces, the small houses, the cliffs, ravines and valleys, are the ingredients that form Teno's landscape.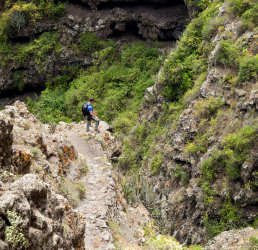 Teno is much more than just Masca 
Masca Gorge is one of the canyons that erosion has carved in Teno. But in the rural park, in addition to those deep ravines, you can also see the steepness of the sea cliffs and the softness of the growing vegetation. 
Here you can take a variety of hikes of different levels of difficulty. There is a network of marked trails that also links with a collection of paths to the laurel forests, the hamlets and the coast. In the villages, you have a variety of small traditional accommodation at your disposal and you can try their artisan products such as tasty goat cheese. There are many options that Teno offers you. It's worth taking some time to discover it at your own pace.
Masca hamlet

The hamlet of Masca is one of the finest examples of traditional Canarian architecture and is an Asset of Cultural Interest, as a Historic Site.
INFO
Visiting Masca

The hamlet of Masca deserves a longer visit. You'll find the Visitors' Centre and hermitage of La Concepción in La Piedra, the hamlet's main group of houses.
INFO
Masca Gorge

The Masca Gorge trail runs along a ravine that was carved out by erosion and is home to native species that are found nowhere else in the world.
INFO