Masca is an exceptional example of Teno's traditional architecture, with its clusters of houses perfectly attuned to the difficult mountain terrain. Until just a few decades ago, the hamlet was even more isolated than it is today. However, it boasted one resource that made it all worth the while: an abundance of water on an island in which it was a rare commodity. By wandering through its cobbled alleyways, you'll be able to discover the different strategies that people employed in order to survive in such a precipitous place.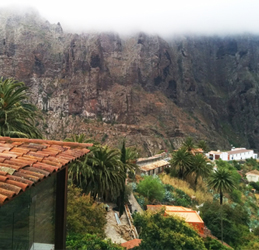 Masca is one of the finest examples of vernacular architecture on the island
As a Historic Site, Masca has been declared an Asset of Cultural Interest. Its traditional buildings were constructed from the few materials that were available at the time:  volcanic rock, wood from Canarian trees, cane and mud.
Dotted between the houses are willowy palm trees. They are, however, more than just a pretty sight. In the past they were a highly useful resource, of which nothing went to waste: their fruits were fed to livestock, the trunks were used to make beehives, and their leaves were transformed into a range of artisan utensils and, to this day, are still used to make hats and brooms.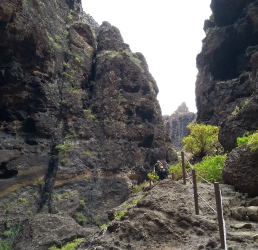 The abundance of water is key to why Masca became inhabited in the past
Even today, Masca is remote and difficult to reach. It is quite amazing to think about how hard life was in the hamlet before the construction of the road. However, on an island in which natural water springs were few and far between, having a gorge through which water ran all year round was a benefit that couldn't be squandered. For this reason, even prior to the Spanish conquest of the Canary Islands, a small aboriginal population had settled in the area, as demonstrated by the archaeological sites found in the surrounding area.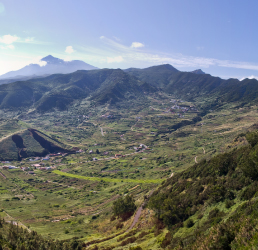 In Masca, agriculture is a heroic act
On the approach into Masca you will be able to put yourself in the shoes of the people who survived in the hamlet without even a road. Although they had water, they had to transform the mountain sides into terraced land in order to cultivate grains, potatoes, cabbage and more. Despite the fact that things are a lot simpler these days, some people in Masca still make every effort to continue cultivating small amounts of crops, including some ancient varieties of vegetables. Especially notable are Masca's onions—a genuine culinary delight with their own unique characteristics.
Teno Rural Park

Masca is in Teno Rural Park—a protected natural area with a great geological, biological and ethnographic heritage, which is part of the Natura 2000 Network.
INFO
Visiting Masca

The hamlet of Masca deserves a longer visit. You'll find the Visitors' Centre and hermitage of La Concepción in La Piedra, the hamlet's main group of houses.
INFO
Masca Gorge

The Masca Gorge trail runs along a ravine that was carved out by erosion and is home to native species that are found nowhere else in the world.
INFO